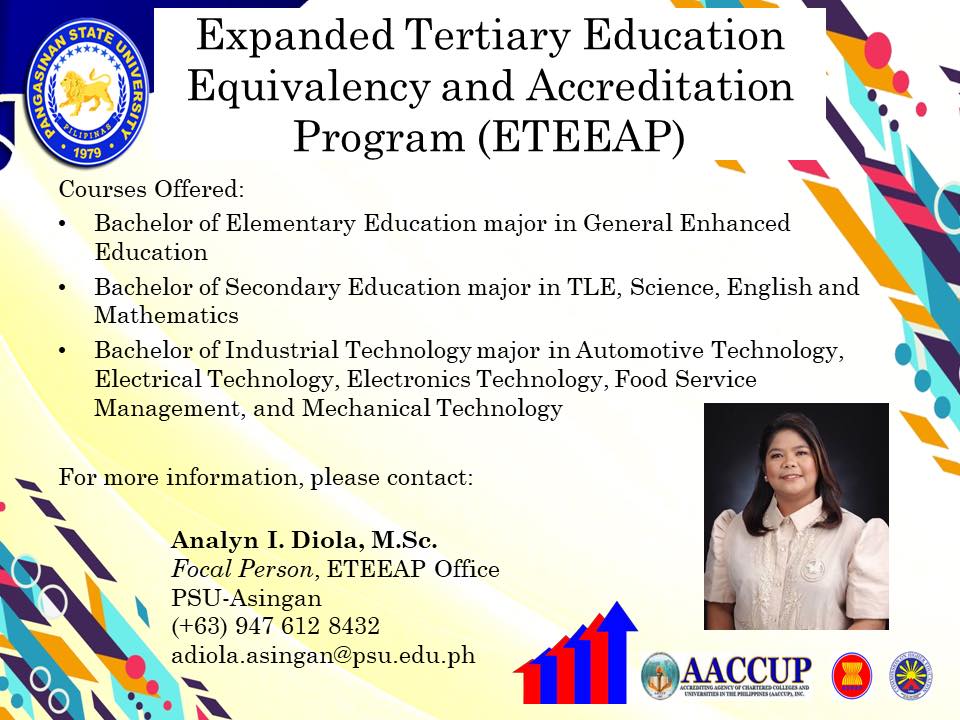 PSU is one of the higher education institutions in Region 1, and we are featuring the Asingan Campus on this site.
Included in their programs is the implementation of the Expanded Tertiary Education Equivalency and Accreditation Program (ETEEAP), being one of the hundreds of colleges and universities in the Philippines that were deputized by the Commission on Higher Education (CHED).
See the video testimony about ETEEAP at the bottom of the page.
Programs Offered
The following are the programs that they offer under the ETEEAP. These are offered by their eight campuses in the province. This page was originally made for the Asingan Campus, but their focal person will refer you to the campus where the appropriate degree for your experience and credentials apply.
Bachelor of Secondary Education
Major in:
– Mathematics
– Science
– English
– Filipino
– Social Studies
Bachelor of Elementary Education
Bachelor of Industrial Technology
Major in:
– Mechanical Technology (For factory machinists and drivers)
– Automotive Technology (For machinists and drivers)
– Electronics Technology (Covers both electronics and computer technology. Also for those with backgrounds in semiconductor companies)
– Electrical Technology (For electricians and electrical technicians)
– Food Service Management (For those who work in restaurants, resorts, canteens, etc.)
– Garments and Fashion Design (Garments factory workers and tailoring/sewing shop owners)
– Civil Technology (For carpentry and maintenance work background)
– Drafting Technology (For those who work in the civil engineering field)
Tuition and Other Fees
This is one of the first question prospective candidates always ask so we will explain it here. Below is the official fee schedule coming from their office. PSU's fee structure is one of the cheapest in the Philippines as well as globally. Other questions and clarifications you may have in mind can be directly addressed to the authorized representative who cares for this project. You can find her contact details below.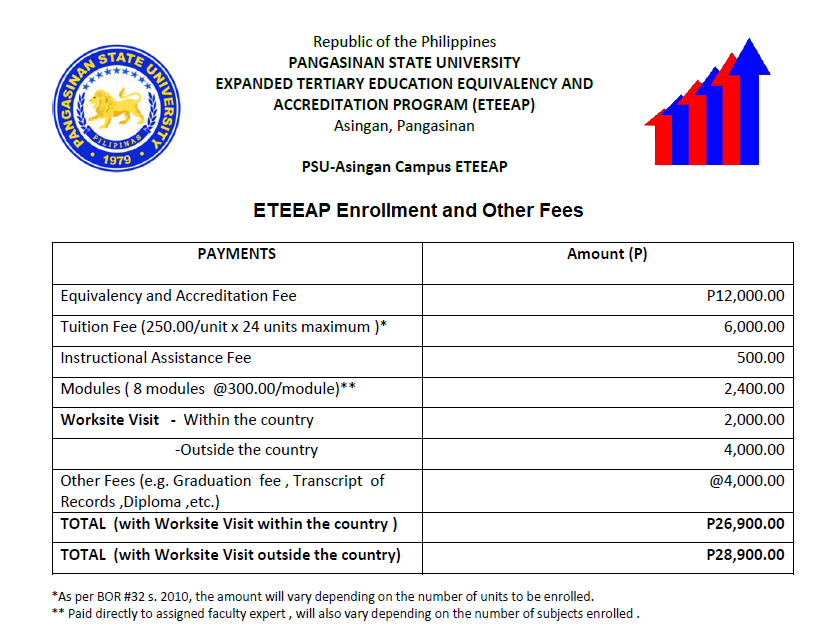 Application, Evaluation and Enrollment Procedure
Fill up the application forms (Click here for the downloadable application form in PDF).
Prepare a detailed resume or CV along with a cover letter of intent which includes the program of your interest.
Prepare a Detailed Functions and Responsibilities (DFR) or Service Record to be signed by your current employer.
Prepare a Detailed Functions and Responsibilities (DFRs) or Service Records to be signed by your previous employers (If available).
Prepare copies of employment certificates of current and previous employers pertaining to number 3 and 4.
Prepare all the other documents (NSO provided birth certificate, Diploma and transcripts of records of your completed education, etc).
Prepare all certificates of training, seminars and awards that you have acquired.
Prepare a list of your works or publications either in print or digital.
Any other relevant documents from any organization or entity as proof of your claimed skills and achievements.
For online application, you may scan all of the above along with a brief letter attached to your CV explaining your intent.
When you fill up your application/enrollment, please specify which offered program or degree you are interested to enroll in. After evaluation, the PSU ETEEAP administrators will send their reply to you informing you as to which of the courses/subjects and units/credits are covered by your credentials, and the subjects you still need to enroll along with the cost. ETEEAP enrollment is daily which means you will not follow a specific time frame. All subjects and requirements will be covered and completed through online learning modules.
Residency Period
Individuals enrolled under the Program is required to have minimum residency of six (6) months. This means that even if your enrolled subjects are completed in less than 6 months, you can not apply for graduation, even if you have complied with all the requirements.
You will be provided additional instructions when your pre-evaluation is completed.
Important information and requirement after evaluation:
One of the requirements is for the college or university where you completed the units/credits that you submitted (if you did and where applicable) along with your other credentials to verify this by sending a copy of your Official Transcript of Record (OTR) directly to PSU, along with comments about your status.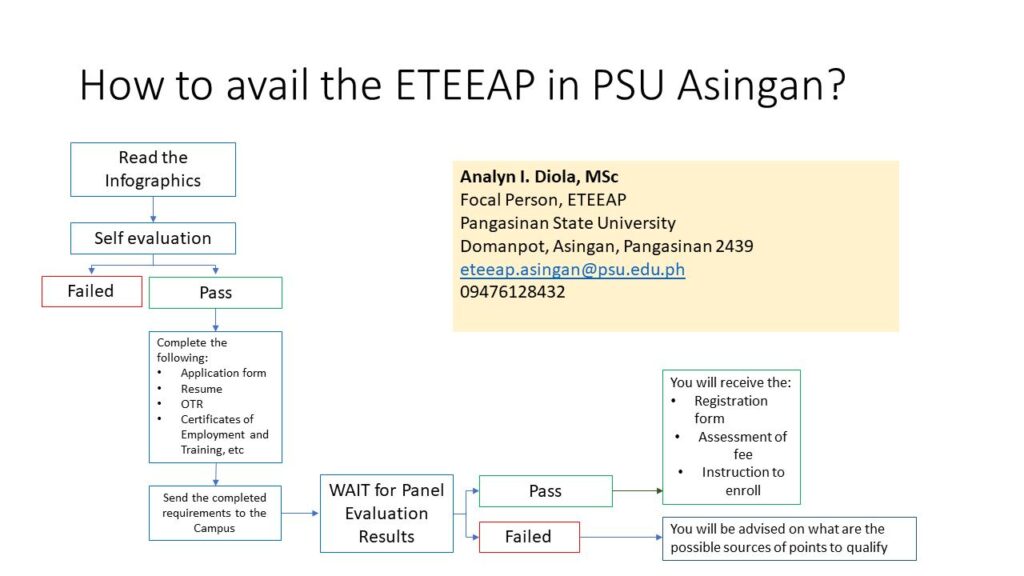 For other details, you may directly inquire from the PSU-ETEEAP department though the contact person below.
________________________
Ms. Analyn I. Diola
Focal Person, ETEEAP
Pangasinan State University- Asingan Campus (PSU-Asingan)
Asingan, Pangasinan
Facebook: Aying Diola
Email: adiola.asingan@psu.edu.ph
Mobile: +63-947-612-8432
Click here to view or download the PSU FAQ document although most of the information are already found on this page or in other parts of this site.
---
Testimonies on PSU ETEEAP
From Jeanne Rivero's YouTube Channel.