The Central Luzon State University (CLSU) straddles on a 658 hectare campus in the Science City of Muñoz, Nueva Ecija, 150 kilometers north of Manila. It is one of the renowned and prestigious state-institutions of higher learning in the Philippines. You can visit their main campus website for more information on this link later.
On top of the regular on-campus programs that they offer, they also set up a division that caters to international students which includes distance learning, open and transnational university. This department conducts their classes through different methods to be able to accommodate students' different backgrounds and situations. During the Covid-19 pandemic, they also adapted the full online classes so as not to disrupt the continuous learning of their students. For more information on this, please visit their website on this link.
Included in their programs is the implementation of the Expanded Tertiary Education Equivalency and Accreditation Program (ETEEAP), being one of the hundreds of colleges and universities in the Philippines that were deputized by the Commission on Higher Education (CHED).
On this page we will focus on their ETEEAP and the programs they offer. So let us take a look.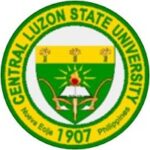 Courses under the ETEEAP

COLLEGE OF EDUCATION
– Bachelor of Elementary Education
– Bachelor of Secondary Education
– Bachelor of Technology and Livelihood in Education
– Bachelor of Physical Education
– Bachelor of Elementary Education 
COLLEGE OF ENGINEERING
– BS in Civil Engieering
– BS in Agricultural and Bio-systems Engineering

COLLEGE OF AGRICULTURE
– BS in Agriculture 
– BS in Agribusiness
COLLEGE OF FISHERIES
– BS Fisheries

Requirements
The following are documents needed for ETEEAP enrollment. Interested applicants can submit whatever they have that match, or the equivalent, of the items in the list.
Resume/Curriculum Vitae/Personal Data sheet
ETEEAP Form-from the ETEEAP Director's Office
Service Record/Employment Certificates
Job Description
Recent 1.5×1.5 ID picture
Transcript of Record
• Undergraduate
• Post graduate
• Diploma
Birth Certificate issued by NSO/PSA
Certificate of Licensure Examinations taken
Certificates of Trainings/Seminars/Workshops Attended
Certificates of Awards/Recognition/Citations Received
Community/Extension Services Rendered
Membership in Professional/Government Organizations
Publications
• Include all appropriate evidences
• Pre-Interview/Pre-Assessment
• Schedule of Psychological Test
• Panel Interview
Tuition and Other Fees
This is one of the first question prospective candidates always ask so we will explain it here. Below is the official fee schedule coming from their office. CLSU's fee structure is one of the cheapest in the Philippines if not globally. They also have a very unique program for those who qualify for it. If a student is enrolling his very first bachelor's degree, the tuition of 161.00 Pesos/Unit is waived. For those figures that were not specified, please send your inquiries to the ETEEAP department of CLSU for clarifications. Most of these will only be determined when the student enrolls.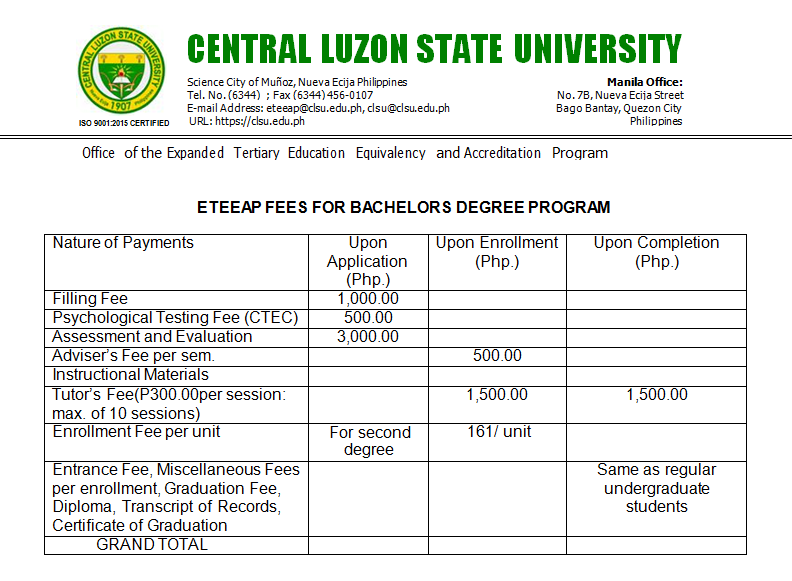 Fill up the application forms (Please contact CLSU for a copy of this).
Prepare a detailed resume or CV along with a cover letter of intent which includes the program of your interest.
Prepare a Detailed Functions and Responsibilities (DFR) or Service Record to be signed by your current employer.
Prepare a Detailed Functions and Responsibilities (DFRs) or Service Records to be signed by your previous employers (If available).
Prepare copies of employment certificates of current and previous employers pertaining to number 3 and 4.
Prepare all the other documents (NSO provided birth certificate, Diploma and transcripts of records of your completed education, etc).
Prepare all certificates of training, seminars and awards that you have acquired.
Prepare a list of your works or publications either in print or digital.
Any other relevant documents from any organization or entity as proof of your claimed skills and achievements.
For online application, you may scan all of the above along with a brief letter attached to your CV explaining your intent.
When you fill up your application/enrollment, please specify which offered program or degree you are interested to enroll in. After evaluation, the CLSU ETEEAP administrators will send their reply to you informing you as to which of the courses/subjects and units/credits are covered by your credentials, and the subjects you still need to enroll along with the cost. ETEEAP enrollment is daily which means you will not follow a specific time frame. All subjects and requirements will be covered and completed through online learning modules. You will be provided additional instructions when your pre-evaluation is completed.
Important information and requirement after evaluation:
One of the requirements is for the college or university where you completed the units/credits that you submitted (if you did and where applicable) along with your other credentials to verify this by sending a copy of your Official Transcript of Record (OTR) directly to CLSU, along with comments about your status.
For other details, you may directly inquire from the CLSU-ETEEAP department though the contact person below.
_______________________________________
Dr. Cesar V. Ortinero, PhD
Program Head, ETEEAP
Central Luzon State University (CLSU)
Science City of Muñoz, Nueva Ecija
Email: eteeap@clsu.edu.ph
CLSU FB Page: CLSU ETEEAP Page
_______________________________________
For other inquiries, you may leave a comment below as CLSU-ETEEAP administrators are monitoring this page and we will provide you with the appropriate information in our replies if they are not found on this page or in other parts of this site.