Brief Introduction
DMMMSU is a state university located in the beautiful coastal province of La Union in Northern Philippines. As you travel northward, the South China Sea beaches, which is part of the Lingayen Gulf, is accessible just a few minutes on your left. In some areas you can see the beautiful sceneries of the sea right inside your car.
Don Mariano Marcos Memorial State University (DMMMSU), or DMMMSU to the locals, is one of the state universities in the Philippines, and it is also one of the deputized higher education institutions of the Philippine's Commission on Higher Education (CHEd) to deliver the some of their programs through the Expanded Tertiary Education Accreditation Program (ETEEAP). They have three strategically located campuses. For more information about the university, you may visit their official website here. As for their ETEEAP, please read on as we have exciting features of their system that you will be delighted to know.
They have no dedicated page for their ETEEAP on their website, but with their permission, we are providing our visitors here a complete information.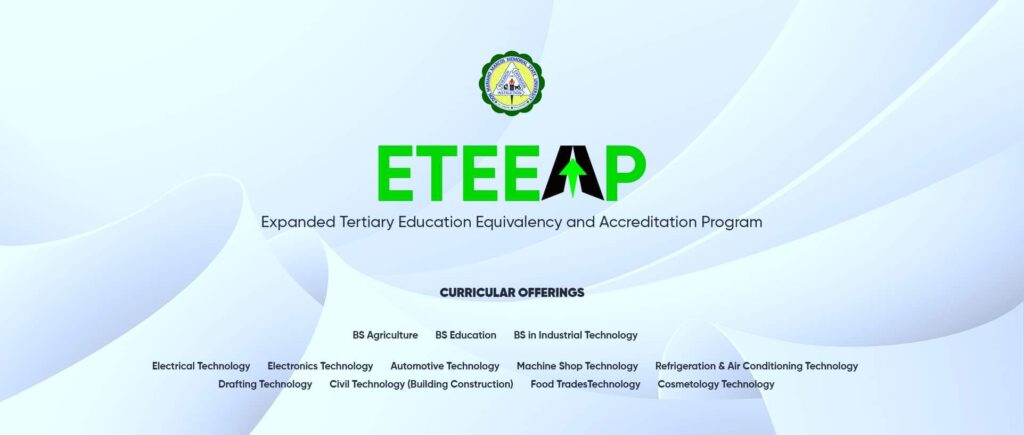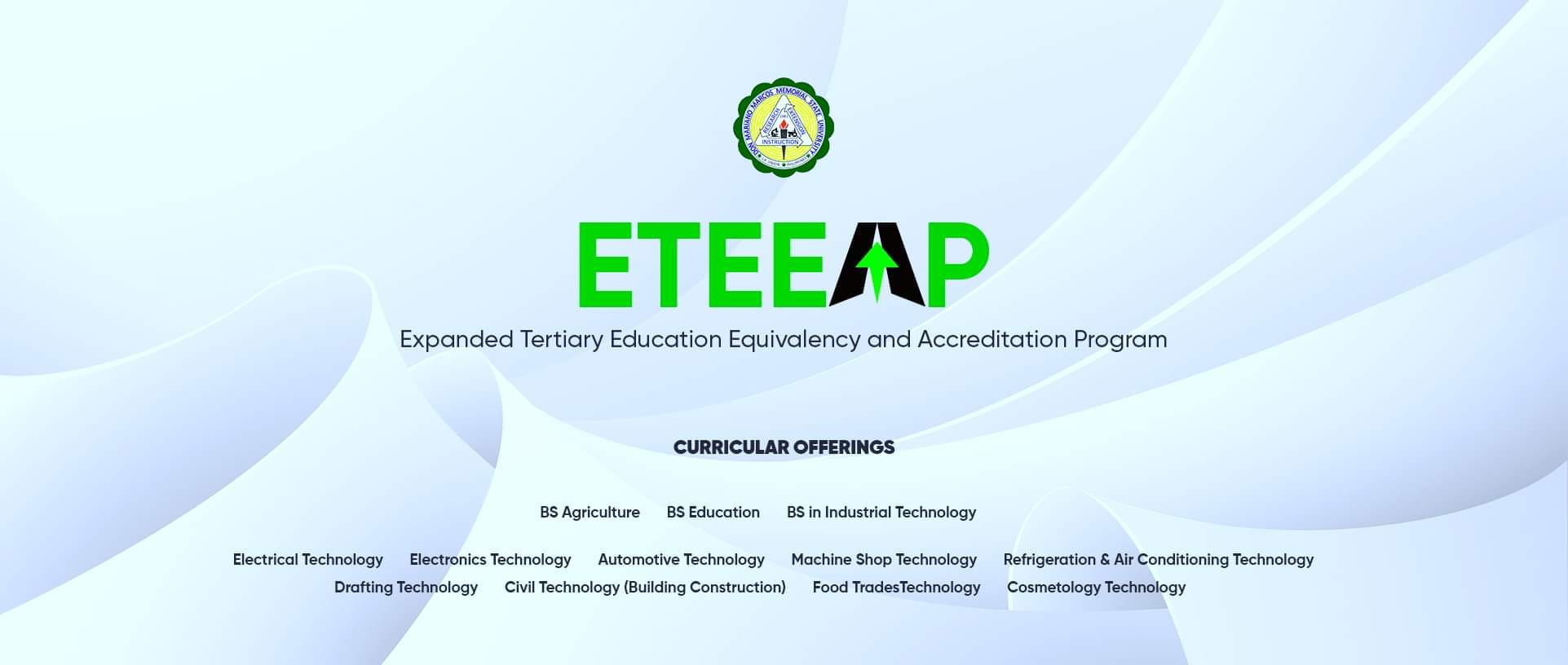 Application Procedure Overview
For more details on how to prepare your requirements, please refer to these links:
– ETEEAP Manual
– Paano Mag-apply sa ETEEAP?
– Sino ang Pwede sa ETEEAP?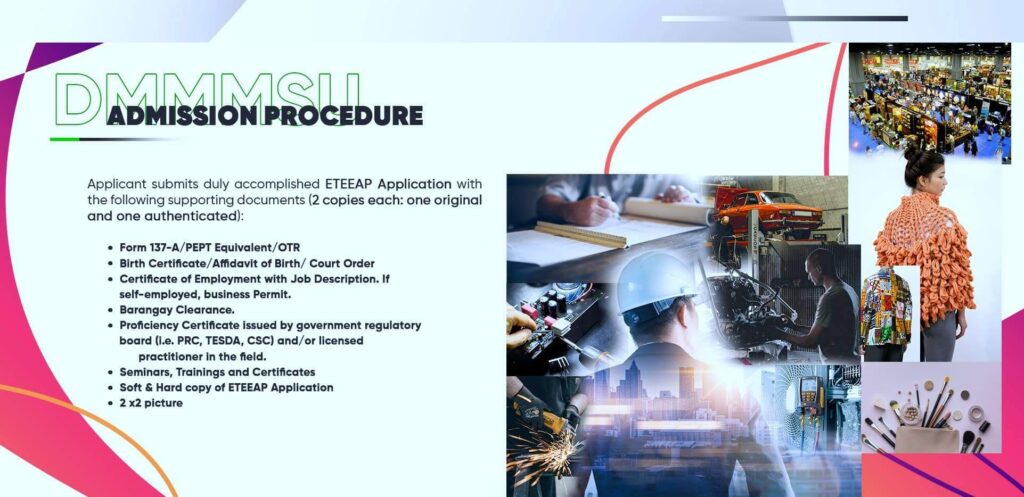 Overview of Programs under ETEEAP
I – Under the College of Education
Bachelor of Early Childhood Education
Bachelor of Elementary Education
Bachelor of Physical Education
Bachelor of Secondary Education
Offered Majors:
– Filipino
– English
– Science
– Social Studies
– Mathematics
Bachelor of Technical-Vocational Teacher Education
Offered Majors:
– Automotive Technology
– Beauty Care and Wellness
– Drafting Technology
– Electrical Technology
– Electronics Technology
– Food and Service Management
– Garments, Fashion and Design
Bachelor of Technology and Livelihood Education
Offered Majors:
– Home Economics
– Industrial Arts
– Information and Communication Technology
---
II – Bachelor of Science in Industrial Technology (BSIT)
Offered Majors:
Electrical Technology
Electronics Technology
Automotive Technology
Machine Shop Technology
Refrigeration & Air Conditioning Technology
Drafting Technology
Food Trades
Cosmetology
---
III – Bachelor of Science in Agriculture (BSA)
Offered Majors:
Animal Science
Soils
Plant Protection (Plant Pathology)
Crop Science (Horticulture, Agronomy)
---
Basic Qualification of the Candidate
Candidates must posses a high school diploma of the PEPT placement equivalent to first year College.
Candidates must have been employed for at least five (5) years in the industry related to the area of specialization being applied for in the program.
Candidates must be at least 23 years old. They must present a birth certificate to support the claim.
Candidates must be proficient in the area of specialization being applied for.
Ability of a candidate to submit an accomplished ETEEAP Application Form. The ETEEAP application form is a package of information intended for the DMMMSU faculty and staff to determine whether the applicants is eligible or not for the the program.
---
DMMMSU ADMISSION PROCEDURE
A. PRELIMINARY PHASE
1) Applicant secures ETEEAP Application form from the ETEEAP Coordinator of DMMMSU-MLUC College
of Technology. Coordinator briefs and orients applicant/s.
2) Applicant submits duly accomplished ETEEAP Application with the following supporting documents (2
copies each; one original and one authenticated):
Form I37-A/PEPT Equivalent/OTR
Birth Certificate/Affidavit of Birth/ Court Order
Certificate of Employment with Job Description. If self-employed, business permit.
Barangay Clearance
Proficieny Certificate issued by government regulatory board (i.e. pRC, TESDA, CaC) and/or Iicenced practitioner in the field.
Seminars, Trainings and Certificates
Soft & digital copy of ETEEAP Application
2×2 picture
Curriculum Vitae (with job description every position)
3) ETEEAP Coordinator, in coordination with the College Dean pre-assesses the documents submitted.
4) If qualified, the applicant undergoes personality assessment (written and oral). If not qualified,
applicant is advised accordingly.
B. FORMAL EVALUATION
Panel of Assessors convenes to conduct documentary assessment.
Based on the evaluation of the Panel of Assessors, the Panel convenes to conduct skills and competency assessment.
2.1 Written test or validating oral examination.
2.2 Skills demonstration.
2.3 Worksite visitation.
If the evaluation of the Panel of Experts is satisfactory, the candidate enrolls in the required ETEEAP Courses and instructions will be provided by the assigned professors.
After completion of all requirements on enrolled courses, ETEEAP coordinator submits evaluation results of successful candidates to the Campus ETEEAP Advisory Board for endorsement to the University ETEEAP Advisory Board. Names of successful candidates will be included in the list of graduating students for deliberation in the University Academic Council meeting.
DMMMSU awards the degree to successful candidates.
---
Topics discussed and questions answered below. You may click on the topics that take you to the part of the video where they were discussed.

CH01 – The DMMMSU focal person
CH02 – DMMMSU overview
CH03 – The advantage of enrolling at state universities
CH04 – The DMMMSU focal person's role
CH05 – DMMMSU ETEEAP Overview
CH06 – ETEEAP website featured schools brief overview
CH07 – DMMMSU offered degrees overview
CH08 – DMMMSU enrollment procedure
CH09 – DMMMSU ETEEAP lesson delivery (Modular-Online)
CH10 – ETEEAP graduation requirements and worksite visit
CH11 – DMMMSU Graduation procedure
For more information you may contact the ETEEAP Implementation Personnel using the details below.
Contacts:
University ETEEAP Director:
Dr. Joan V. Rivera
Phone: +63-951-278-0544
Facebook Inquiry Group
Please Click/Tap this link to visit group.
Group Admin: Mam Lhai
University International Linkages and ETEEAP:
Dr. Jesus Rafael B. Jarata
Phone: +63-906-865-4659
ETEEAP Coordinator:
Prof. Ruchelle D. Flores
Phone: +63-977-813-0225
In-charge of the BS Industrial Technology (BSIT):
Dr. Geraldine N. Marquez
Phone: +63-917-120-2120
In-charge of the Education Department:
Dr. Vanessa Cayabyab
Phone: +63-926-009-7403
In-charge of the Agriculture Department:
Dr. Rosemarie O. Tattao
Phone: +63-909-805-2676

---